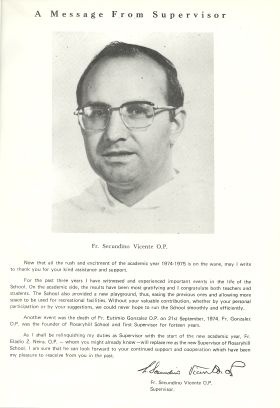 For the summer of 2012, RHSOSA decided to interview with currently the longest serving priest in Rosaryhill School, Fr Secundino Vicente Zurdo.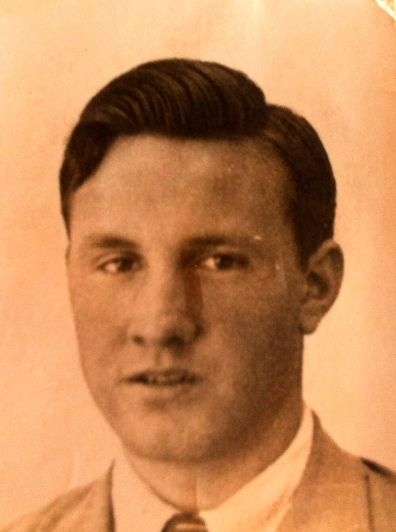 At the beginning of the interview, I asked our interviewee about his name, our interviewee clearly explained 'Secundino is my first name, Vicente is my Christian name and Zurdo is my family name.'
Childhood
Fr Secundino was born and raised in the small town called Zamora in Spain on 12th January 1938. When asked about his family background, Fr Secundino said he came from a very religious family. His father was a farmer and his mother was a housewife. Both of his parents were both very religious so among the five sons and two daughters in the family, two sons including Fr Secundino became priests and one daughter became a nun. Apart from these three children in his family, a few of his uncles and cousins also became priests and nuns as well. Since both of his parents were very devoted Catholics, they were both very happy to see that Fr Secundino chose to be a priest.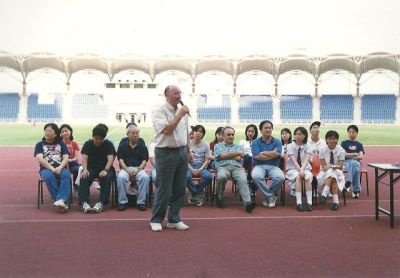 After having completed primary school and Apostolic school in Segovia-Valladolid, Fr Secundino decided to be a novitiate in Toledo, Spain for a year to see if he would want to be a priest professionally, so he joined the simple profession first before he made the solemn profession when he turned 18 years old. He then studied philosophy between 1957 and 1961 in House of Dominicans in Avila, Madrid in Spain for three years before he was sent to Dubuque in Iowa, United States of America to study theology, which explains why Fr Secundino's English is so fluent with almost no Spanish accent.
Becoming a priest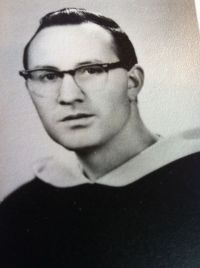 Father Secundino was ordained to be a priest on 18th April 1964. During the period from 1961 to 1965 when Fr Secundino spent in Dubuque, he liked the beautiful city very much and he frankly told me that he was tempted to stay behind after his studies there. However, he finally decided to go to New Mexico in America for his pastoral year to learn the ceremonial skills and pastoral ministry.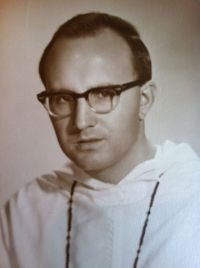 As a curious writer myself, I asked Father Secundino if he had thought about quitting priesthood and starting a family of his own, he told me that he had never had such thought because he was always "trained to follow orders, not to question motivation". Therefore, he just followed whatever instructions he was given by the church. After his brief stay in New Mexico, he was assigned by the Dominican Orders to study education at Dominican University of Santo Tomas in the Philippines from 1965 to 1969. Fr Secundino, who has always been having an easy-going personality, enjoyed his stay in the Philippines very much. In fact after the completion of his education degree in Santo Tomas, Fr Secundino's original plan was to go back to United States of America to take a Masters of Arts degree to be major in the history of South East Asia, which he found interesting and fascinating. However, Fr Secundino was once again given an assignment which was not what he had planned to do – to come to teach in Rosaryhill School in Hong Kong.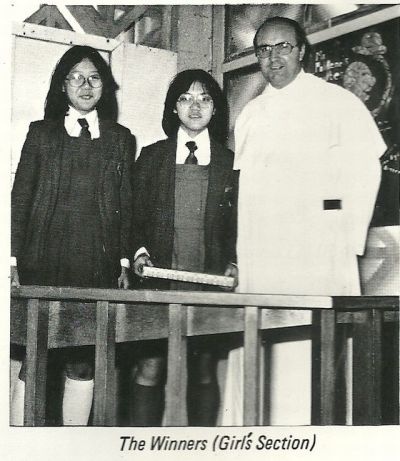 New Chapter in Hong Kong
When I asked him about his first impression when he first came to Hong Kong for his assigned post, he said "I had come to Hong Kong once to renew my passport once when I was studying in Santo Tomas so it was not really a completely new place to me at that time. I had a rough idea what Hong Kong was like before I came." Moreover, Fr Secundino was fond of Chinese history so he had read the classics and the philosophies of Lao Tzu, therefore he also had some ideas about Chinese culture and philosophies.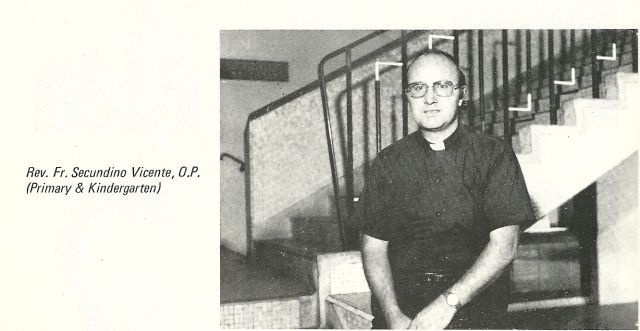 Fr Secundino was only 31 years old when he came to Hong Kong. He welcomed the new assignment since he could get to work with young people. He started teaching religious knowledge in Rosaryhill School in 1969, in fact our current Acting Principal in Secondary Section, Mr Robert Kwan, was one of his first students too. After he first joined Rosaryhill, his first impression was that he quite liked the new environment in the school and the students at that time were very well behaved. He still remembered that our school organized its 10th anniversary soon after he came and he still vividly remembered our beloved Fr Lionel Xavier and the school's main patron Mr Young Chi Wan both attended the celebration ceremony.
Subsequently, he was assigned to be Rosaryhill School's Supervisor and the Superior-Prior of St. Albert-Rosaryhill School between 1972 and 1975. He was also in charge of the Primary and Kindergarten Section from 1972 to 1983.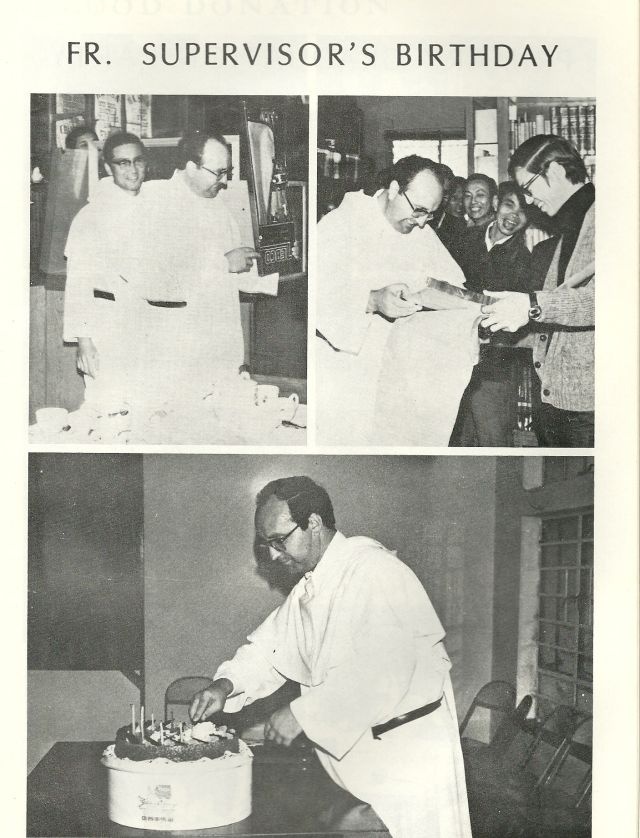 During the past 43 years with Rosaryhill School, Fr Secundino encountered a few challenges for the School. He remembered in around late 1970s, the school was invited by the then Education Department to send representatives to attend a talk in which the government encouraged our school to change its private secondary section to become a subsidized section. He and Fr Lionel Xavier attended the talk. He said after the talk, both he and Fr Xavier felt that it was a logical decision for the School's Secondary Section to be changed to a subsidized section because otherwise it was foreseeable that the School would face huge difficulty to survive as it would find it difficult to keep up with the continuous raise in the teachers' salaries in the following years. Fr Secundino said the School had even attempted to change its primary section to subsidized section later as well, but such request was rejected by the Education Department as the School made such request after the deadline set by the government.
Fr Secundino did leave Rosaryhill School for a few years between 1982 and 1986 when he was elected to be the Regional Superior of all Spanish Dominican priests, the Superior of one of the Dominican Houses in San Juan del Monte and a Dominican hospital in Philippines. He said he did enjoy his time in Philippines as the life there was more simple and people in Philippines were more kind and more religious, but after 4 years there Fr Secundino requested to come back to Rosaryhill School in 1987 and he was once again assigned to be the Principal of the Business Section in 1987 until 1990. After that, Fr Secundino kept teaching social ethics in the Business Section from 1993 to 2005. He remembers that at one stage our Business Section was so successful that there were over 700 students, some of the classes even had to be conducted in the School Chapel and in the afternoons. He said even though we always had non-Chinese students in the Business Section, students always mixed well with each other.
When asked for his fond memories in the old times, Fr Secundino said he had always enjoyed teaching and talking to students. He also always remembered the time with the lovely boys and girls in the Red Cross cadet units. He was the patron of the both cadet units in the Boys and Girls Sections, 48A and 48B, for a number of years.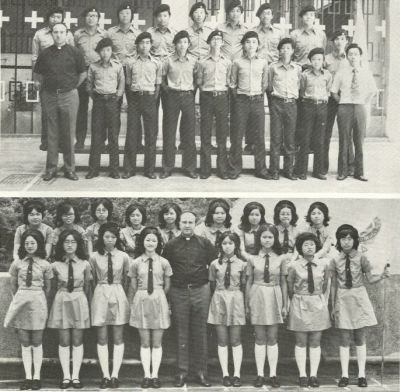 I asked Fr Secundino if there were anyone in Rosaryhill School whom he enjoyed working or being with. The first person he mentioned was Fr Lionel Xavier O.P.. He said he admired Fr Xavier in particular Fr Xavier was able to hate; on the other hand, he was always very helpful: "Although Fr Xavier was very religious, he even would change his mass schedule if he was needed to be present something more important. He had a very solid knowledge of philosophy and theology. I had never seen him getting offended by anything. It was always enjoyable to work with him". Fr Secundino also said Fr Paco Francisco Heras was a good friend as he would offer his help whenever necessary. Fr Secundino said Fr Jose Salas and Fr Emiliano Perez were good friends of his in school too.
Present
Fr Secundino told me that "I have enjoyed my work, my life as a priest. I'm still helping to conduct English Mass at the Parish Church, Star of the Sea Church, in Chai Wan at noon every Sunday and I also direct religious groups such as Legion of Mary, Apostolship of Prayer and the Samaritans there. Moreover, I conduct Masses in other churches including the Chapel at Canossa Hospital, Canossan Mission near the Catholic Cathedral and the Spanish Mass at St. Margaret Church in Happy Valley as well."
Although the workload for the above tasks sound quite heavy, in fact Fr Secundino was very happy taking all of those assigned tasks. He said he had never thought he would have done what he is currently doing especially at this age. Besides the above many duties, Fr Secundino is also assigned by the Dominican Church to teach students who are studying to be priests. I asked him if he ever got disappointed when he saw some students left after having studied for a short while; to my surprise, he said "No, I am not. Actually I think if such student were meant to quit, the sooner they do that the better it is for him and the church." So what else does he do in his spare time? Fr Secundino told me that he liked walking around different parts of the city especially the country side like Tung Chung. Besides that, Fr Secundino also likes reading books and listening to classical music. His favorite writers are David Baladcci and Jonathan Kellerman.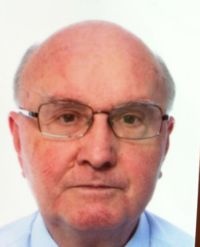 At last, on behalf of all of our past graduates and RHSOSA, I take this opportunity to thank Fr Secundino for his hard work and his contributions in Rosaryhill School over the last 43 years.
Written by Edward Ng